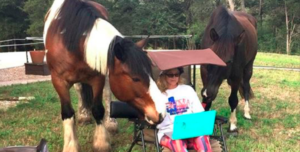 Ok, friends. I have a free Nowheresville weekend, April 13-15. It's a gorgeous time of year here, very peaceful, wildflowers, baby goats, not too hot. I'm doing a personal writing retreat to jump start a novella called Old Flames—for a romantic mystery/thriller/suspense box set from 20 authors! my first time to write…Maggie!—writing six to eight hours a day, then doing my usual things to recharge (play with animals, ride horses, look for bluebonnets and paintbrushes, walk, get in hot and cool tubs in the swim spa, cook dinner).
Eric and I are opening up space to other writers for the weekend, to retreat with me. We have 4 rooms available. Depending on room type and whether you choose single or double occupancy, it will be between $350 and $500 to attend, Friday noon through Sunday afternoon. 
This will be a no frills, no workshops, no facilitation retreat. Eric will serve us simple meals, and we will have valuable, meaningful writing/publishing conversations during meal and down times. You enjoy our gorgeous place and activities, in a writing environment, with indoor and outdoor writing spaces, and enforced SILENT hours (nobody better mess with me on that
😉) in the house: four hours on Friday, eight hours on Saturday, and four hours on Sunday.
This is very different from my facilitated retreats where I critique, coach, workshop, and teach. The only one like that I currently have scheduled this year is August 5-11 in Wyoming. (You can learn more about it here: https://pamelafaganhutchins.com/writing-retreats/)
This one in April in Nowheresville is "spontaneous."
😉 and it ain't on the website. Write to me — pamela at pamelafaganhutchins dot com — if you're interested.
Pamela
Please follow and like us: